Are you looking for the best drum set on the market? Then you might be surprised by the number of amazing drum sets you can get your hands on. In the modern drumming world, many drummers are looking for the best quality without breaking the bank. But that is probably an impossible goal because the best drum sets tend to have the steepest prices.
Whether you are a beginner or a professional drummer, a high quality drum kit will improve your overall sound, visual presentation, and your level of creative inspiration. If you're going to invest a lot of time into mastering the craft of drumming, consider investing a few dollars into quality tools that will help you become a master craftsman.
If it's your first experience buying drums or you are just beginning your musical journey, you should probably go for a budget-friendly drum kit. Choose a drum kit that can serve you for many years to come while you learn to play drums. As you advance in the art of drumming, you will be able to upgrade to a more expensive drum set later. However, if you are making an upgrade then you should look more into these pro drummer suggestions.
GospelChops has prepared a complete detailed list of the best drum sets available in 2021 just for you. This list will help you select from the best products and not settle for mediocre gear. Although these drum sets are not cheap, we did not consider prices in our selection. We don't believe that these kits are best because they're expensive. We believe that they're expensive because they are the best.
As a professional, I have my own preferences. Over the years I have played a variety of drum sets. Right from the time I was a beginner up to my present gigs. You will find the interaction of different parts(snare drum, hi-hat and bass drum) vary widely from one drum set to another. But once you develop as a player, you will learn what sounds and feels good to you. So let's begin!
The Best Acoustic Drum Sets of 2021
DW Design Series 5-piece Shell Pack – Clear Acrylic
For an exciting and enticing musical experience, DW Drums sets are some of the best on the market. With over 30 years in the drum business, DW Drums have been the pride of most proficient professionals in the industry. Design by a well-motivated team of craftsmen, these particular drum sets are aimed at providing the best drumming experience for professional drummers.
The Design Series features unquestionable craftsmanship and is available in several professional-grade finishes from beautiful woodgrains on maple shells to clear acrylic. The shells are dense and punchy with excellent attack and resonance. Plus, they look cool too!
This is a shell pack that includes three toms, a snare, and a kick drum. Hardware and cymbals are sold separately.
Features
The drum kit features a maple or clear acrylic five-piece drum kit, including three toms , a snare and a kick drum.
Seamless clear acrylic shell are used to offer impressive tone .
Designed with a clear acrylic finish that makes the drum set more attractive .
The kit comes with True Pitch tuning rods that allow you to tune your kit's sound to your precise desired taste.
Pros
It has an 8 piece kit option
Amazing price considering is wonderful sound quality
Durable
Low mass mini turret lugs
Its composed of HVT shells to produce warmer and deeper tones
Easy to cleans and maintain
Cons
There are no draw backs associated with this product. If you've been playing wooden drums forever, this drum kit is a good reason to switch up.
Gretsch Drums Renown 5pc Shell Pack
The Gretch Drums have been a part for the market since 1883 offering some of the best drum sets ever. It comes with a unique design, heavy-duty Gretsch Die-cast hoops fitted to all the toms and snare shells to offer explosive attack power for an outstanding low end timbre.
Features
Heavy duty Gretsch die-cast hoops fitted to all tom and snare shells
Classic Gretsch 7-ply maple shells
Weighs 47.4 pounds
Constructed with 30-degree bearing edges to provide wonderful sound
Glossy lacquer finish
Shell sizes (depth x diameter): 7″ x 10″ and 8″ x 12″ toms, 14″ x 16″ floor tom, 18″ x 22″ bass drum, 5″ x 14″ snare drum
Pros
Redesigned black round badges
Each drum is constructed with 30 of a smooth degrees bearing edge
It comes with Gretsch 's unique silver sealer for the exterior finish
Produces a lethal attack and power combo, thanks to its shell /hoop combination
It has less weight which makes it easy to transport from one place to another
Cons
You should count your self lucky if you are able to buy this wonderful drum kit. It can be a bit costly due to the material used in construction, but it's worth every penny.
This particular drum set is one of the best for pro-level drummers . It has a lot to offer from live performances to recording studio sessions.
Yamaha Recording Custom Series Shell Pack
For the best drumming experience you need something worth your effort . The Yamaha Recording Custom drum set is a world-class drum kit meant for all types of users who prefer pristine construction and unsurpassed tone. Whether you are a beginner, intermediate or pro, you will find this drum set inspiring and just a pure joy to play.
Yamaha has spent many years providing consumers with low-cost drums that can really take a beating. The Recording Custom shells come with more to offer in terms of sound and prestige. This high-end drum kit is specifically designed for recording musicians and drummers who want nothing less than the best quality tone.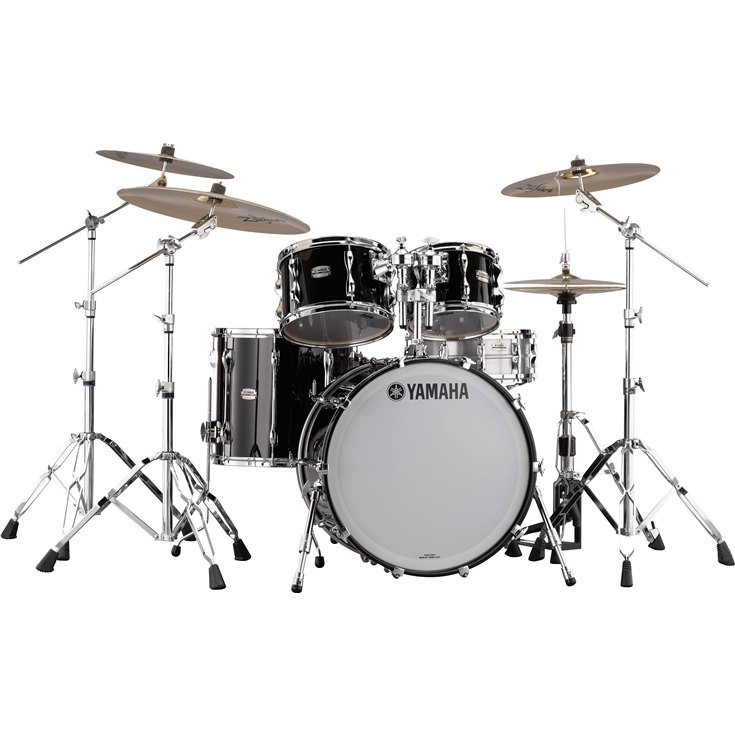 Features
It comes with a 22 inch bass drum to provide users with a big kick sound
6-ply birch shells with a new lug design
It has a 45 degree bearing edges to give absolute style lugs
An air seal system to keep the drum set intact at all times
Engineered with advice from Steve Gadd
A YESS mounting system allows the toms to be placed together
Die-cast bass drum claw hooks
Nylon Bushing on the clamps to provide the drum set with most stability
Pros
Powerful focused sound
Air seal system for durability
Low mass lugs to provide better vibration and tone quality
High-gloss lacquer finish which is appealing to the eyes
Cons
Tama Superstar Hyper-Drive Duo 4-piece Shell Pack
Since 2008, the Tama Superstar Hyper-Drive has been on the map as one of the most exciting drum sets on the market. We're talking about a serious upgrade from Tama's Starclassic series. It comes loaded with amazing features to take your experience to the next level. In short, this kit secures Tama's rank among the best semi-pro drum kits.
Features
4-piece maple shell pack
14 to 16-inch floor toms
14 inches mahogony snare
It weighs 52 pounds
A 22″ x 18″kick drum
Pros
Affordably priced compared to other drum kits in its class
Sleek, modern-looking finish
Thin drum shells provide great resonance
Hybrid Duo Snare doubles as a floor tom
Cons
Toms do not mount on the kick drum, causing clutter with tom stands

Sonor SQ1 20″ 3-piece Shell Pack
Sonor is one of the most productive brands backed up by science. The company has worked hand in hand with the German automotive industry to create a unique drum set built with large rubber gaskets preventing direct interaction of the wood and the metal hardware to provide a greater resonance.
The SQ1 is designed with birch shells offering amazing tone capabilities. The standard configuration includes a smaller tom and kick drum; perfect for jazz or fusion music. Each color option is a perfect matte finish with a contrasting kick drum ring for added visual appeal.
Features
3-piece Maple Shell includes an 8″ tom
45-degree bearing edge
TuneSafe lugs designed by Sonor
Matte lacquered finishes
Sound Sustainer tom brackets
Pros
Cross Lamination Tension Free (CLTF) shell construction
It provides an outstanding tone
Users have access to the Premium Hues
Small size with big sound
Cons
Small shell sizes limit musical applications
Drum Kit Buyer's Guide
Over the years more and more quality drum sets have joined the market, offering affordable and costly drum sets. Depending on your budget, there may be some drum sets that are too pricey for your taste. But rest assured that today's drum builders are charging premium prices because they are manufacturing premium drums.
When entering the market to purchase a new drum kit, there are a few considerations that will help you narrow your choices, thus, making the buying process easier. Here are some of the aspects to consider:
What is a Shell Pack?
A shell pack is not a complete drum set. It is usually just a kick drum with matching toms. However, some shell packs will also include a matching snare drum as well. Be sure to read the specs so that you know exactly what you're getting for your money.
With shell packs, hardware and stands must be purchased separately. But by the time most drummers invest in a high-end shell pack, they typically already own the pedals and stands that they love to play.
How Many Toms Should I Have?
The number of toms that a drummer uses is a matter of personal preference. However, musical genre is a strong consideration when selecting a drum set configuration. For example, playing smooth jazz rarely requires much tom drum activity, while gospel music or R&B might require you to be really chop focused. If your gigs require you to play multiple tom pitches, you can only achieve that with multiple drums.
The Budget
A suitable drum set ranges from a few hundred dollars to more than a few thousand, depending on the level of sophistication of the model. However, as a newbie you don't have to start with a high-end kit. I would recommend starting up with a drum set below $1000. But you won't find the "best drum sets" in that price range.
If you are able to spend a little more, you'll find a tremendous difference in sound and build quality at a higher price point. You can expect better shell finishes, improved shell construction, and superior hardware option which all contribute to improved sound and performance.
Kit Size
The size of the drum kit plays a crucial role in the type of music played. For instance, if you are playing jazz then you should go for smaller bass drums and toms. If you're playing hard rock, look for the 22″ kick drum to provide you with adequate bottom end.
Set your expectations based upon the style you play the most and make your selection accordingly. Some of our suggested kits may not include enough toms for your genre, but luckily, these drum makers also sell toms separately. This will allow you to customize your setup if required.
Final Verdict
There is no "best" drum kit that surpasses all others. Our goal is to help you find a drum kit that's best for you. From gospel to thrash metal, no matter what genre of music you play, one of these suggested drum kits will be a great fit for you.
Our suggested list is not intended for beginners. However, we admit that beginning drummers can be greatly inspired when given the opportunity to play high-quality gear. In other words, a high-end drum set can't hurt if you're just getting started.
Additional GospelChops Articles