When gospel sermons came on the phonograph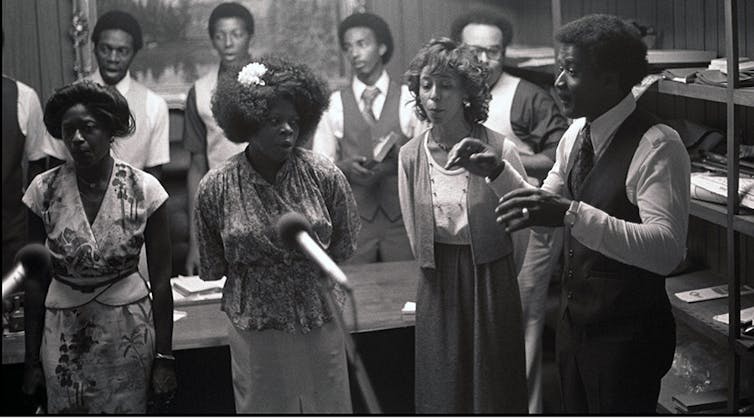 Jerry Zolten, Pennsylvania State University
The first truly African-American musical form, the "Spirituals," took shape in the 17th and 18th centuries within the generations of slaves born into the tough American experience. Music was a daily part of their survival and sustenance.
Spirituals were sung "a cappella," that is, without instrumental accompaniment. Voices were blended over rhythms provided by clapping hands, stamping feet and makeshift percussion. The words and melodies were improvised, not written down and never sung the same way twice. The singers remained untrained in the formalities of music.
Anthropologist Zora Neale Hurston attributed the power and beauty of spirituals to these very qualities. As she wrote,
"Its truth dies under training like flowers under hot water."
These early songs, over a hundred or more years later, gave rise to 20th century gospel music as well as secular genres including blues and jazz, R&B (rhythm and blues) and doo-wop, a style of '50s vocal group pop.
As an author of a book on the gospel canon, Great God A'Mighty! The Dixie Hummingbirds: Celebrating the Rise of Soul Gospel Music, I have been particularly drawn to a compelling but lesser known outgrowth of the spiritual tradition – the African-American "folk" preachers.
These folk preachers blended homespun sermon and song to offer life lessons on how to survive in a world of inequality and virulent racism.
Recording sermons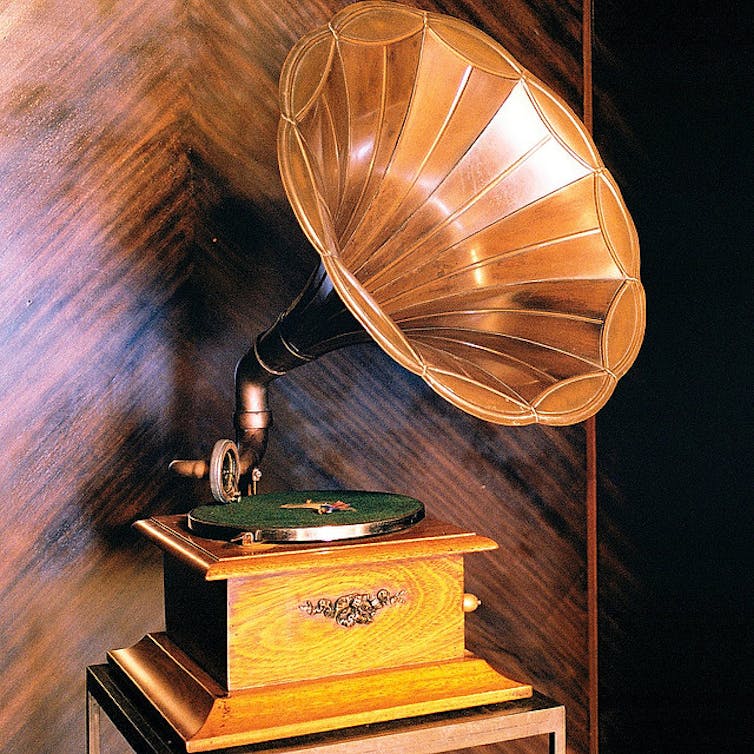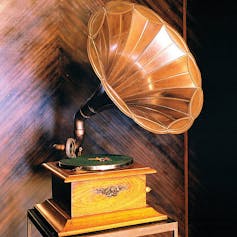 While the folk preachers may have perfected their preaching skills in Southern churches, they broadened their reach through phonographs records. From the mid-1920s well into the Depression, there were roughly 85 preachers whose hundreds of singing sermons were recorded and heard throughout the black community nationwide via 78-rpm records.
On their records – none longer than three minutes in duration – the preachers, in "call and response" with a handful of select "sanctified" congregants, would sing and opine in rhythm and rhyme about everyday realities like "always pay your furniture man" or "is there harm in singing the blues?"
Their records were advertised in nationally distributed black newspapers, such as The Pittsburgh Courier and The Chicago Defender. Their names were famous within the African-American community and some of the better sellers included Rev. J. C. Burnett, Rev. T.N.T. Burton, Rev. A.W. Nix, and Rev. Sundown Jesse. The most prolific of all was Rev. J. M. Gates of Atlanta, Georgia. His more than a hundred sermons were released on a variety of labels – Paramount, Columbia, Vocalion, Okeh, and Victor – that specialized in records that catered to "race."
The case of Rev. Gates
What gave Gates prominence, besides his stellar performances, were his sensational titles, many drawn from Biblical verse, others from African-American vernacular. The titles enticed people to buy the record to find out more.
"Dead Cat on the Line" was Rev. Gates taking on marriage infidelity. He opened the sermon by saying,
"If a child is no way like his father, there's a dead cat on the line."
His reference was to a time when a cat might get up on the power lines and die from electrocution, cutting off telegraph signals so no messages could get through. The phrase meant "we're not communicating here." But with the dead cat festering up there, Gates was also alluding to the problems of infidelity.
"Kinky Hair is No Disgrace" spoke to demoralization stemming from negative value placed on "negro" features." Gates preached,
"Skin and hair don't make the inside of man or woman good…Remember that God looks on the inside and man looks on the outside…And a whole lot of this hair straightening is just strictly so men can see it…You needn't worry about your hair…You straighten your heart or your brain…Get something straight on the inside. You know it!"
And his masterpiece was based on a line from the Gospel of Matthew, "Straining at a Gnat and Swallowing a Camel." "Straining at a gnat," implied getting worked up about small matters, and "swallowing a camel," was a reminder to people about missing what was truly important right in front of them, in this case the incongruities of racism. He sang,
"You! You negro-haters. You that can't sit with him on the street car. You that can't eat at the same table with him. I'm talking about you who can't sit in your own automobile with him. Aah, but I'll tell you what you can do. You can eat what they cook. Sleep in their bed. You can let them drive your car while you sit in the rear and he handle your life in his hands. You're straining at a gnat and swallowin' a camel."
The music of Rev. Gates and his fellow preachers provided the sonic moments for the religious seeds of the budding Civil Rights Movement.

Jerry Zolten, Associate Professor of Communication Arts and Sciences, Pennsylvania State University
This article is republished from The Conversation under a Creative Commons license. Read the original article.