The Roland SPD-SX is widely considered to be among the best and most well-known sample pads on the market today. In the following review, we will talk about this electronic drum pad in detail.
Following the release of the original SPD-S, the SPD-SX became a common sight to see professional drummers use them for triggering playback songs, loops, as well as samples. Although these sample pads are not inexpensive by any means (check price on Amazon), you will get world class construction as well as reliability which you cannot expect from inexpensive models. The SPD-SX has to be on your shortlist if you're serious about using a sample pad to expand your drum set.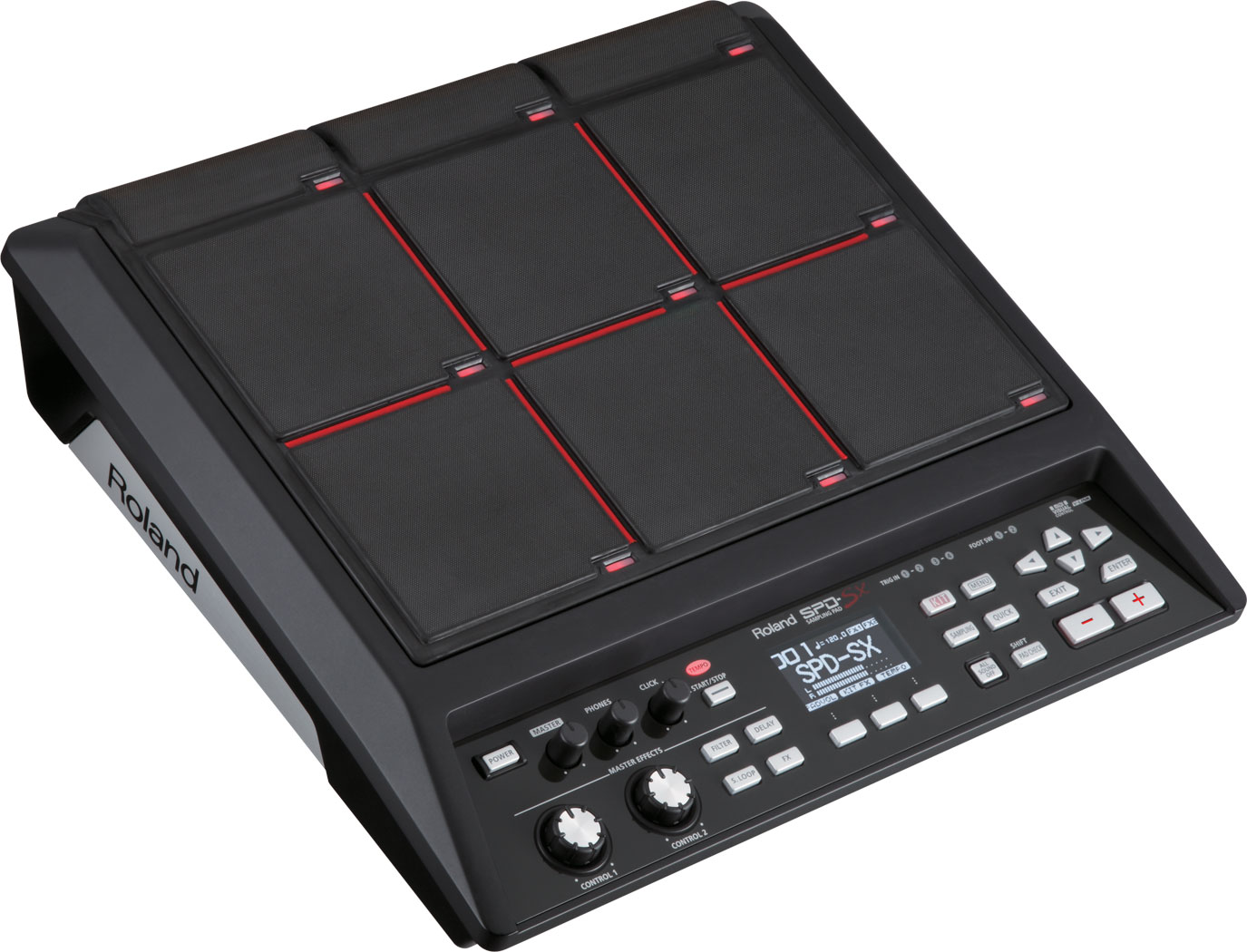 Design and Construction:
You won't find it tough to get going with the SPD-SX. Being a solid standalone sample pad, its samples are stored in internal memory, making an external computer unnecessary. Many DJs are also choosing it as opposed to other samplers and controllers due to the fact that it offers a lot more than just a drum pad. The SPD-SX contains 9 pads, of which 3 happen to be small pads at the top. The magnificent and compact all-black texture along with red lights is ideal for stage playing as well.
The navigation on the gadget as well as the LCD menu is extremely fast, and it is possible to change between kits very rapidly (something which you won't get with inexpensive sample pads).
Additionally, the build quality on the SPD-SX is amazing. Each pad is independent of each other and you won't find any problem with cross-talk on these pads whatsoever.
Features:
Even though several pre-programmed kits are available with this drum trigger, its greatest potential actually lies in its personalization, which will allow you to store a large number of samples due to ample storage capacity. Customized samples can also be loaded quickly with multi-pad sampling capabilities, making the SPD-SX a monster drum trigger for live performances.
It is also possible to stream an MP3 player very easily for recording and chopping samples depending on your choices. If your samples are on a laptop or personal computer, a USB cable or a USB thumb drive can be connected to the computer directly which will allow you to import and edit samples directly.
In terms of extra features, it is possible to set up a couple of dual-zone exterior trigger inputs. As many as 4 exterior single-zone pads can be used as opposed to a couple of dual zones. However, it is important to get ahold of extenders for this.
The SPD-SX is equipped with quite a few pre-installed effects for beefing up the desired sound of your samples. It consists of effects like EQ, filter, delay, as well as a loop function and it can be manipulated on stage instantly to provide you with extreme flexibility on the gig.
Pros:
High-class construction quality
Extremely responsive pads
Customized sampling
Plenty of memory space
Solid controls and menu system
Cons:
Comparatively pricey
Restricted exterior pad inputs
Rankings
It is very important to keep in mind that this Roland SPD SX drum sampler has received stellar reviews from working drummers and this can be an important consideration to make while selecting the best one for your needs.
1. Affordability (9/10) – Even though Roland SPX-SX is a costly gadget, it is definitely worth its cost! You get a well-constructed, professional quality sample pad which can endure lots of wear and tear over time.
2. Features (8/10) – This drum pad happens to be amongst the most widely used drum triggers on the market and it includes excellent recording, custom sampling, as well as other features.
3. Playability (9/10) – Pads are velocity-sensitive and extremely simple to play on.
4. Sound Quality (8/10) – The electric drum pad's sound quality is amazing, and samples are all stored internally.
Conclusion:
Roland SPD-SX is undoubtedly one of the best sample pads on the market for professional drummers. Roland stays ahead in the competition when it comes to electronic drums with these types of products that it has manufactured over the years. This sample pad is an excellent workhorse for withstanding extended tours and provides you with access to sounds which aren't possible to reproduce on a traditional acoustic drum set. Don't give any second thoughts to this important purchase. Go for your coveted electric drum pad today! It will take your performance experience to a new level altogether.
Additional GospelChops Articles