Christian movies on Netflix have come a long way in recent years. The production value in the faith based space has increased to the point of rivaling major movie studios.
Watching movies is a great recreational activity that helps us to have fun and relax our minds. Christian movies pass divine morals and themes to the viewing audience. Rather than being purely recreational, Christian films are good movies to watch that also help the audience to strengthen their faith in God and give hope through a biblical story.
More often than not, the Christian themes in these movies are filmed from testimonies, Bible stories, Bible verses, and teachings. They are therefore the most preferred movies for Christian families. We've compiled a shortlist of the best Christian movies on Netflix for your viewing pleasure. Enjoy!
What makes a good Christian movie?
A "Christian movie" or faith-based movie typically includes a situation that challenges a character's faith in God and demonstrates God's love and faithfulness in a triumphant screenplay.

A Christian movie commonly includes the following elements:
1. A flawed hero
2. Authentic problems
3. A focus on God (not necessarily church)
4. Spiritual questions
5. A resolution clearly from God
What is the highest-grossing Christian movie?
In 2004, The Passion of the Christ earned more than $611 million worldwide on a $30 million budget and became the highest-grossing faith film in history.
Does Netflix offer Christian movies?
Netflix has a large and ever-growing catalog of Christian themed and faith-based movies. If you're looking for spiritual inspiration and encouragement, check out the following movies:
1. Left Behind
2. I'm in Love with a Church Girl
3. The Case for Christ
4. Christian Mingle
5. Believe
6. An Interview with God
7. The Gospel of John
8. My Daddy is in Heaven
Christian Movies
1. THE CASE FOR CHRIST
Directed by Jon Gunn, an investigative journalist chases the biggest story of his career as he addresses the conflict he has when his wife becomes a believer. He travels far and wide interviewing scholars to help disprove the existence of God. He seeks answers to the resurrection and whether Jesus is the son of God. This faith-based movie is an impactful Christian film based upon the book by Lee Strobel of the same name.
2. SAME KIND OF DIFFERENT AS ME
This is an inspiring movie about an unlikely friendship that was birthed out of a struggling marriage as this couple volunteers at a local mission. It teaches the importance of thankfulness as circumstances can change anyone's life. This emotional masterpiece will renew lost hope and faith in God. Directed by Michael Carney and based on a true story, this classic film is worthy of its many accolades.
3. THE STAR
This Christian animation is a family movie loosely about the naivety of Jesus through computer-generated farm animals. It stars a donkey and his friends who have a hand in the arrival of Christmas. This is a Christian comedy that families can enjoy by Timothy Reckhart.
4. GOD'S NOT DEAD: A LIGHT IN DARKNESS
Directed by Michael Mason, this movie features a Pastor who struggles to accept the circumstances that God has allowed. This is a spiritual and inspirational movie filmed to help remind Christians to be a light in the midst of darkness. This third installment in the 'God's Not Dead' series has a strong faith message as a church burning down on a university campus divides the community.
5. CHRISTIAN MINGLE
This is a Christian based romantic movie that is directed by Corbin Bernsen. The movie is about a woman, cast as Gwyneth Hyden, who never succeeded in her love life. This made her devastated and desperate. Through a Christian dating website, Hyden mysteriously finds Paul, the partner that she had always hoped for. Paul proposes to Hyden. This is a faith-strengthening film.
6. EVAN ALMIGHTY
This is a comical rendition of Noah's Ark. A sequel to Bruce Almighty, a former newscaster headed to Congress has no other choice but to follow the gentle suggestions from God to build an ark in his front yard before the flood. Directed by Tom Shadyac, this is sure to be a Christian family classic.
7. I'M IN LOVE WITH A CHURCH GIRL
This is a Christian-crime-romance movie directed by Steve Race. An ex-drug dealer falls in love with a devout Christian girl. Their relationship is tested constantly as he tries to prove to law enforcement that he has turned over a new leaf.
8. AN INTERVIEW WITH GOD
Directed by Perry Lang, this dramatic mystery movie is about a journalist who is granted the opportunity to interview a man claiming to be God. He finds that when he returns from Afghanistan he has more questions than answers regarding his failing marriage and wavering faith.
9. SAMSON
This is a Christian action drama directed by Bruce Macdonald. This is a modern rendition of Samson who becomes immediately smitten by the beautiful Delilah. He will need his God-given strength to lead his people out of enslavement and into victory.
10. A QUESTION OF FAITH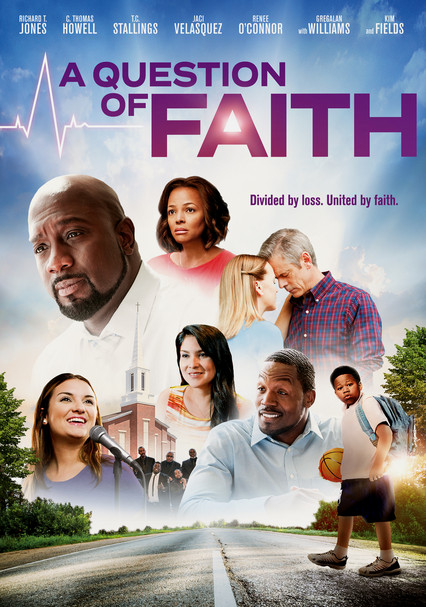 This is a tear-jerking Christian drama produced by Kevan Otto. This modern-day family movie teaches the importance of not texting and driving as three families have their faith in God renewed through calamity. Each family will see the proven grace and mercy of God by the end of the saga.
11. NEVER HEARD
Directed by Josh Webber, this heartfelt drama delivers several messages regarding forgiveness, faith and the power of prayer. The cast consists of many familiar faces in the Gospel and Christendom as well as Dove Award winner, Karen Abercrombie. The social elements of this film take a back seat to see the hand of God working in tough situations.
Netflix Movies
12. JOSEPH: KING OF DREAMS
Creators of The Prince of Egypt, this must-see Christian animation adventure follows the story of Joseph. Based out of the Book of Genesis, Joseph experiences the type of hardships that land him in prison. The star-studded cast brings the dreams that Joseph has to life. This movie can be enjoyed by the whole family with great music and life lessons.
13. COME SUNDAY
Directed by Joshua Marston, this Netflix original is based on a true story about Internationally known recording artist and Pastor Carlton Pearson. The Bishop's spiritual journey questions his faith and church doctrine. He is ostracized by his church as well as fellow evangelicals when he began to preach there is no hell. A Sundance feature worth watching full of strong performances and great cinematography.
14. GOD BLESS THE BROKEN ROAD
Directed by Harold Cronk, this romance drama pays tribute to Veterans as a struggling widow loses her husband in the Afghanistan war. A heartbreaking tale that turns around as a single mother restores her faith in Christ and love when Amber meets a NASCAR racer who loves Country music.
15. LIKE ARROWS
Directed by Kevin Peoples, a young couple discovers how faith can help overcome conflict, rebellion, and resentment. The blended family triumphs as fruitful parenting strategies produce a message of unconditional love and support. Faith-based producer, director, and actor Alex Kendrick stars in this parenting initiative highlighting living life by the word of God.
16. COVERED: LIVE IN ASIA
The Grammy award-winning music Artist Israel Houghton and New Breed tour Asia while documenting live concert footage. The footage showcased was interviews from band members, pastors, and other Gospel and Christian artists. The viewer can expect to be uplifted through testimony and praise and worship music within the span of six albums.
---
Additional GospelChops Articles